You finally got a day off. This is the moment you've been waiting for all week. To get out on the open waters of Lake Tahoe. You shove off without a care in the world… and suddenly your kayak gets hit by a massive wake flipping you over. Things could've gone from awesome to terrible in a flash. Luckily, you made a plan and were prepared! Here's the basic steps on how to make sure it's the best day ever on your paddling adventure regardless of what the day throws at you:
Pick A Launch and Landing Site
Even though Lake Tahoe has 72 miles of shoreline, you can't just get out on the water anywhere. Many miles of beaches, lagoons, and coves are privately owned or downright unsafe to shove off or land at for a paddling adventure. To reduce the confusion, the region has created the Lake Tahoe Water Trail which has 20 official trailheads for you to access the lake. If it's your first time kayaking on Lake Tahoe, we recommend picking a beach that has a sandy access point. For ideas on sandy access points, peruse our Trailhead Spotlights under our blog section and be sure to look at our day trips section for ideas. Better yet, pick up an official map! It'll make for a great souvenir AND be useful. Talk about a win-win.
Plan For The Best, Prepare For The Worst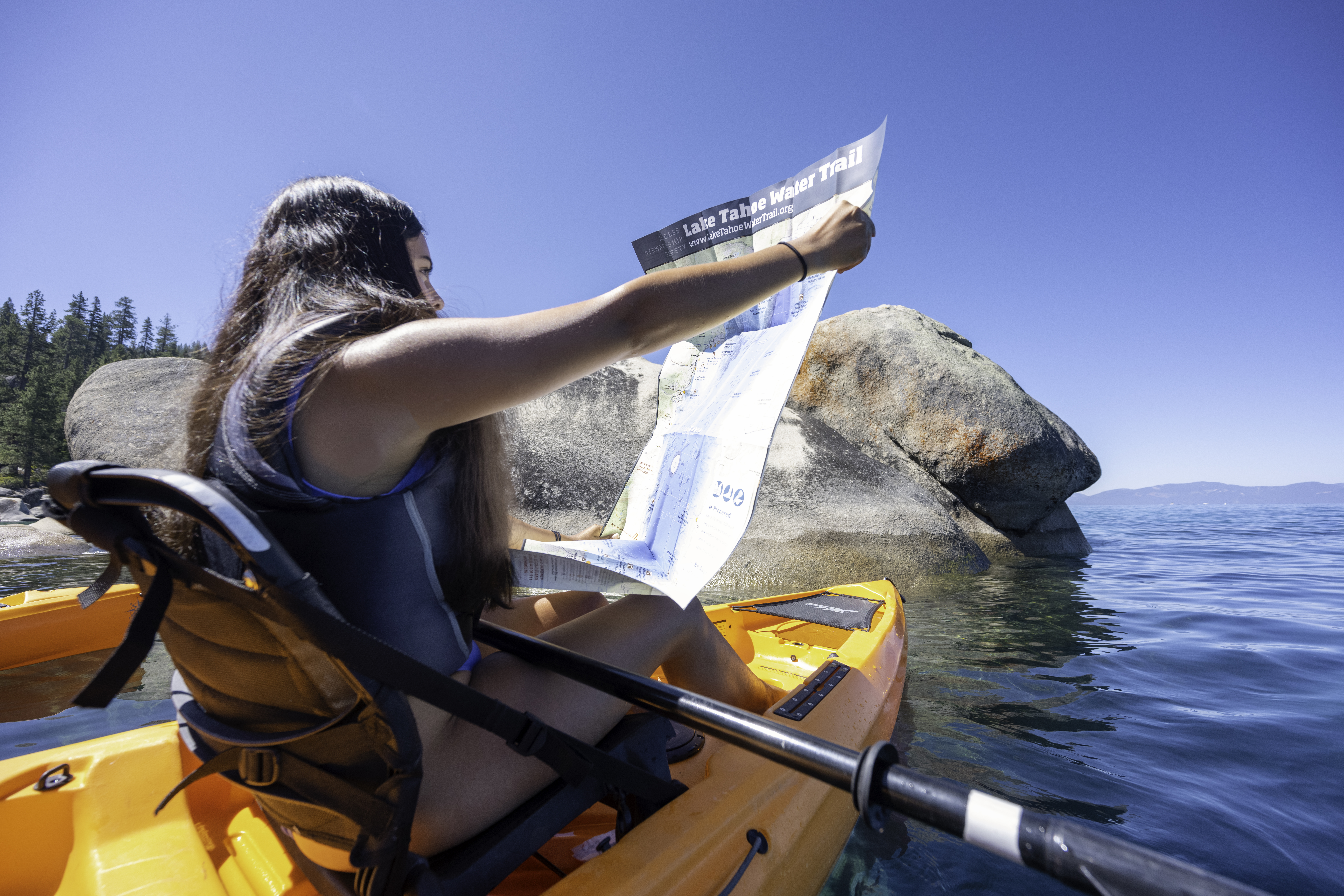 As its nickname dictates… Big Blue is big. REAL big. Weather can change in an instant especially in the afternoon. And while it will be fun on the lake, you should be prepared if something does go wrong by:
Wearing A Life Jacket
If you're using a Stand-Up Paddleboard, wear a Sup Leash
Carry A Whistle & Flashlight
Check the Wind & Weather Forecast
For more on why this is important, head over to our in-depth safety section.
Be A Tahoe Keeper!
To make sure the legendary waters stay clear for generations to come, visitors and residents alike need to be stewards of the lake. That means inspect your boards and kayaks for any invasive species so you don't contaminate the lake. Also, once you're done, clean, drain, & dry the equipment. If you want to learn more about how you can help, head over to our Tahoe Keepers section.
If you follow these simple rules, you'll be sure to have a great time, keep Tahoe Blue, and most of all, come home safe with stories to tell of your paddling adventure.
The Lake Tahoe Water Trail is a Sierra Business Council sustainable recreation tourism project. Learn more about SBC's innovative social, environmental and economic development projects in the Sierra Nevada at www.sierrabusiness.org.